Harry Cocque: That's Reet Boy!
This what it looks like: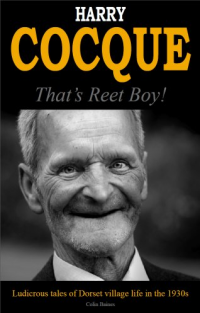 This is what is says on Amazon:
A funny little book containing the hilarious recollections of Harry Cocque, a very old gentleman currently residing in the Piddlewell Moorhen Rest Home for the faintly bewildered (but non-violent).

Set in a peculiar Dorset village in the 1930s, this collection of short stories features characters ranging from the mildly eccentric to the downright ludicrous, and reminds us of the days of harvest festivals, farming accidents, thieving tinkers, steam fairs, barn dances, bizarre traditions, country weddings and heavy drinking.

Packed with absurd mishaps and outrageous double entendres, this book may well make you laugh out loud and wish you'd been there to see it all for yourself – at a safe distance…
Buy A Copy
UK – Paperback Edition
Amazon
Waterstones
WH Smith
Guardian Books
Lovereading
Troubador Publishing
UK – Electronic Editions
Amazon Kindle
iBook
Nook
Google Play
 USA – Paperback Edition
USA – Electronic Edition
If any of these links don't work, do please let me know!